Sketchcrawl in Zundert on Vincent van Gogh's birthday
Did you know that Vincent van Gogh was born on March 30, 1853 in Zundert? This year an artist working in Zundert organised a sketchcrawl to celebrate the birth of Vincent. We meet at the Van Gogh museum with coffee and then walked around the village to sketch and paint.
I started with the little church where once Vincents father was a parson at this church. One sketch started with watercolors and I added lines later. The other one was an experiment with watersoluble markers on toned paper. It did not come out the way I wanted :-). Both paintings stayed in the Van Gogh museum over the Easter weekend.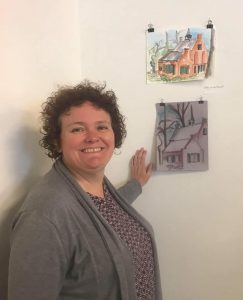 And in the afternoon I sketched the Trudo church in the village. I loved the structures of the (still) bare trees in front.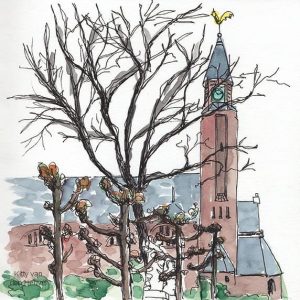 At 4pm we were back in the museum, looking at all the works created and we hang our works to create a litlle exposition for visitors to see over the Easter weekend. It was a great day!